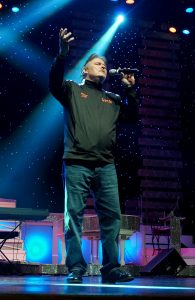 About Pastor Wayne Patterson – Singer/Songwriter
Pastor Wayne is an inspirational singer/songwriter. The Lord has blessed him with words and music, and has given him a message for the last days.
Pastor Wayne has been singing since the age of 12, and writing inspired music since the age of 15. He is gifted in guitar, bass, drums, and keyboard. He waited 12 years before finally pushing forward into a Gospel music ministry. The Lord has taken him in much training. Pastor Wayne met Jesus Christ in 1979 and began to play in a few soft rock groups like Blue Mist, The Phase, and Universal Underpass. Then he decided to get serious about his relationship with Jesus. He became a member of a small church and began to study the bible. It was at that church that he was later ordained as a minister of the Gospel.
At the same time, he began to expand a construction company that he started at the age of 17 that had developed into 3 construction companies, which he still owns today. He also was a Christian bookstore owner, held a weekly coffee house, featured many local artists. He is also an ordained minister.
Over the years, Pastor Wayne has played with a host of different international artists, such as Phil Keaggy, David Meece, Kent Henry, and so on.
The Lord has shown Pastor Wayne and has been preparing him for a worldwide ministry of encouragement. He is committed not to compromise the music, or the gospel that the Lord has given him. He will stay strong in God's Word, and much time in prayer. He will always point people to the saving knowledge of the Lord Jesus Christ. He truly believes that the Lord gave him a vision, and that God is watching over it, as He is the author of it.
Pastor Wayne took a short break in his musical career so he could be there for his daughter so she would know who he was as her father. When Caroline turned 18, He began starting his music career again with his good friend Mike Biasin, and Krys, who became his wife in March 2019.
God is so faithful and is the keeper of our dreams. He wants us to succeed more than we want to and has been there every step of the way. All the glory goes to God, as we continue to pick up our cross and move forward for Him.