Blog
Our Song at #1 for Three Weeks!
Good morning to all of our friends and supporters. We have some exciting news! When we came home from the NACMAI competition in Pigeon Forge, where we were blessed to have won 16 awards, we were notified that our song, "The Lighthouse" had debuted on the Southern Gospel Times Top 40 chart at #1. It has now been #1 for three weeks in a row! The SGT Top 40 is a completely fan-based chart. We need your help to hang onto that #1 spot. Here's the most recent chart.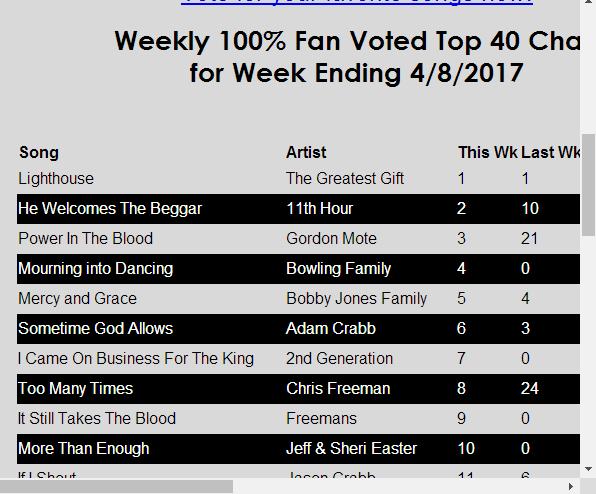 You can Help us Stay at #1! As I said, this is a completely fan-based chart. We would appreciate it greatly if you would go to http://www.southerngospeltimes.com/chart.aspx, click on "Make Your Vote Count – Vote For Your Favorite Songs Now." Find "The Lighthouse" by The Greatest Gift, and put a check mark next to it, and one other song. Enter your email address, and click submit. This is a weekly chart so if you can do this for the next couple of weeks at least, and encourage your friends to do the same, we would greatly appreciate it. As always, we greatly value and appreciate your support and encouragement of The Greatest Gift!